Mission Statement
At Total Produce, we strive to translate our competitive advantages: our people, our growers, our infrastructure, our relationships – into value for our customers; delivering to them a superior service, and to the consumer, produce which exceeds expectations. We do this secure in the conviction that, through ever evolving operational excellence, we will continue to grow – and deliver to all our stakeholders, equitable, industry-leading returns.
Total Produce – Local At Heart, Global By Nature
Total Produce is one of the world's largest and most accomplished fresh produce providers. Operating out of 26 countries while serving many more, Total Produce's global infrastructure of over 140 facilities extends across Europe, India and North America. Growing, sourcing, importing, packaging, marketing and distributing over 300 lines of fresh produce, Total Produce's range extends from the more familiar to the truly exotic. Serving the retail, wholesale and foodservice sectors, Total Produce is a complete fresh produce solution provider – offering a comprehensive menu of services to our customers ranging from simple service provision to complete Category Management.
Our Global Reach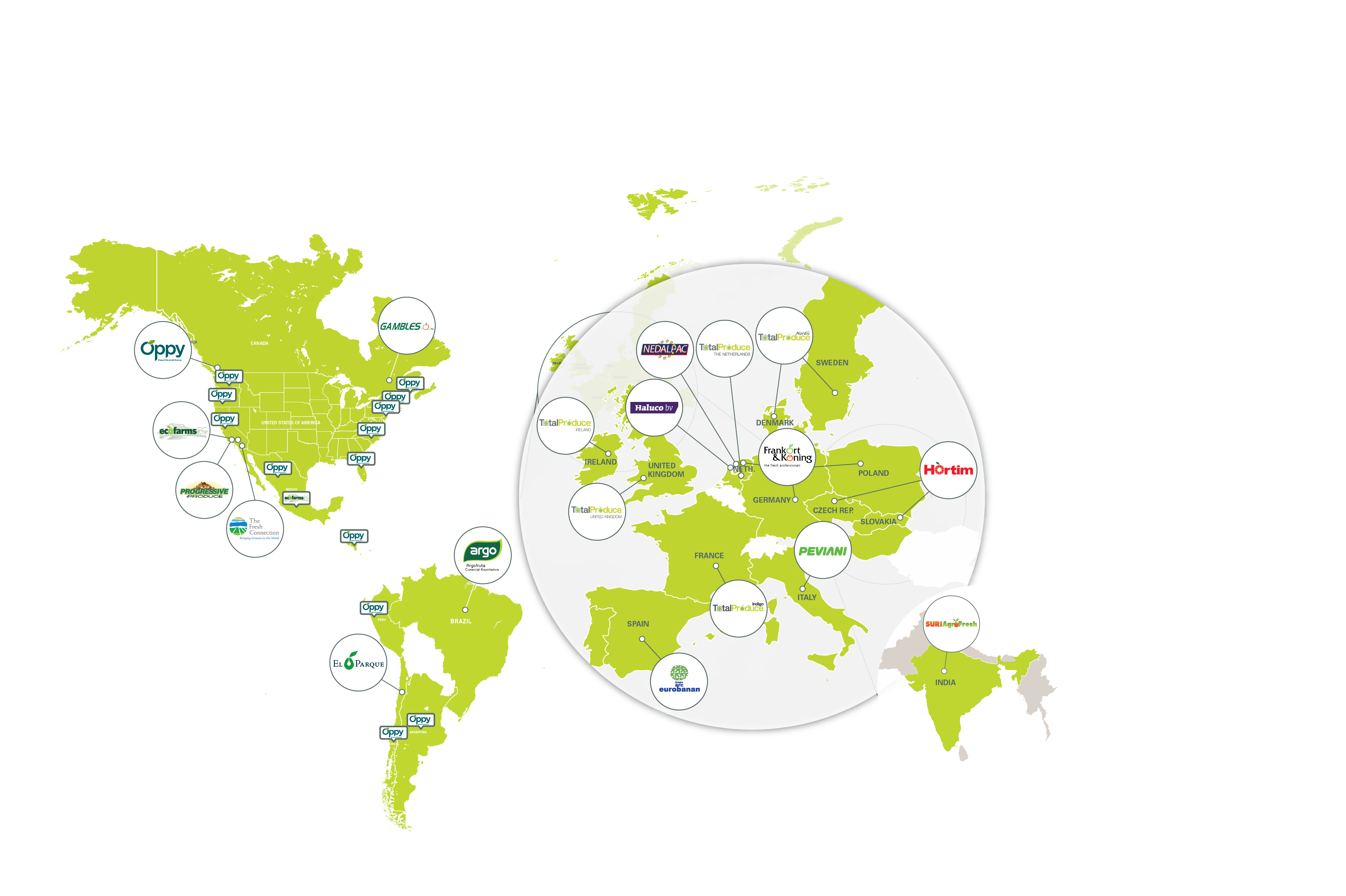 Our Supply Chain:
From Farm to Fork
Total Produce differs from many of its peers by virtue of its local and global infrastructure and specifically the distribution capacity and the on the ground presence in key growing regions around the world that this delivers. Total Produce's influence extends from seed to store and farm to fork, extracting costs from the supply chain and adding value to our produce and the service we provide.
Growing and New Product Development
Investing in innovation. Embracing change. Pursuing the different.
Sourcing
The most accomplished growers. The very best farms. The closest of relationships.
Agronomic Support
Best agricultural practices. Exacting standards. On the ground resources. Superior quality produce.
Importation and Quality Assurance
Simplifying supply. Meeting demand. Exceeding expectations.
Storage, Order Assembly and QC
Embracing technology. Extracting costs. Delivering efficiencies. Generating value.
Distribution
The reach to deliver. The flexibility to customise. The synergies to compete.
Corporate Social Responsibility
Ethical trading. Environmental awareness. Sustainable production. Safe produce.
Marketing
Listening. Innovating. Delivering a competitive advantage.