Teaming Up To Serve The Industry:  Dole and Total Produce To Exhibit Together At Fruit Logistica 2020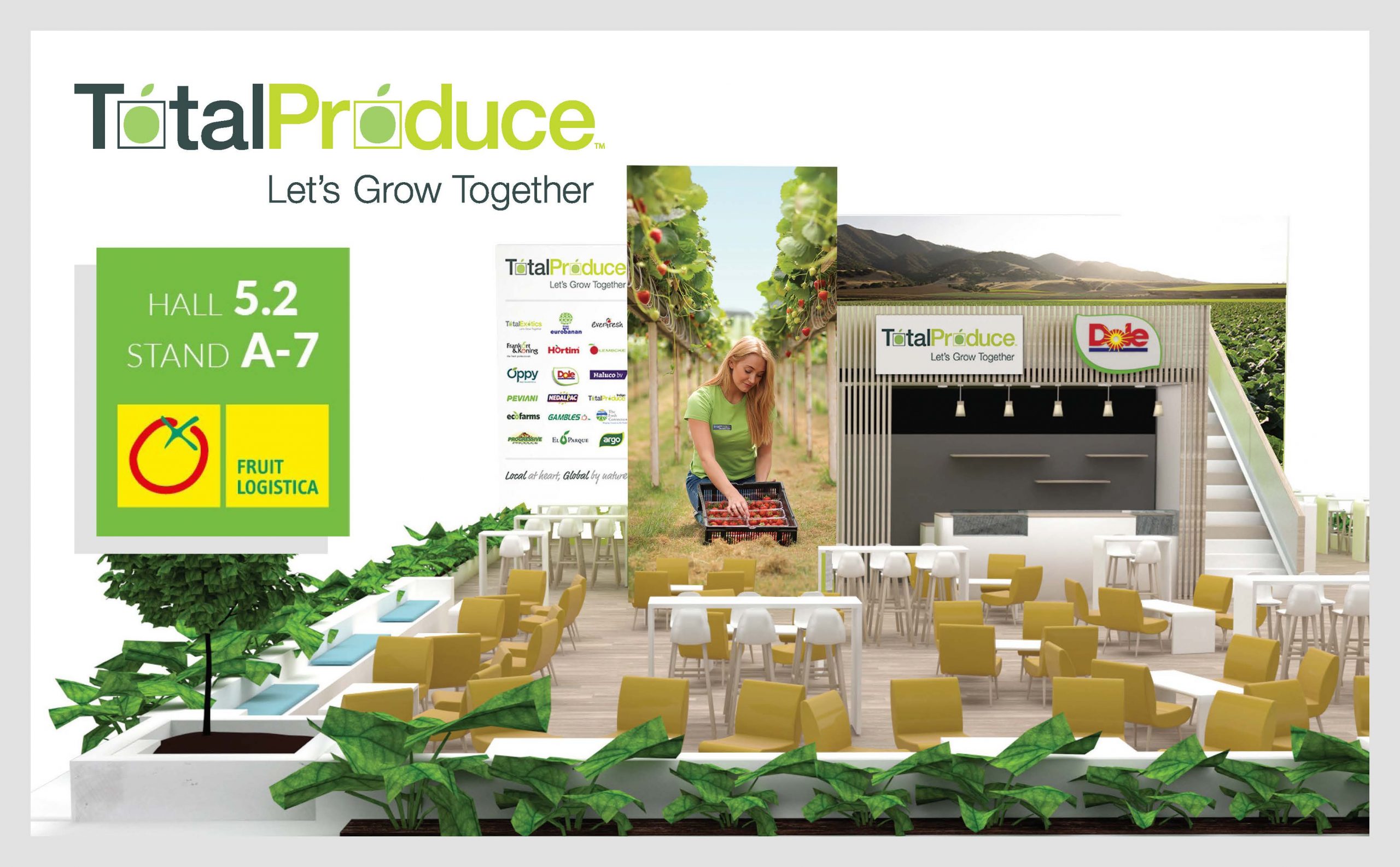 February 5th to 7th will see Berlin's Fruit Logistica, the fresh produce industry's pre-eminent trade fair, open its doors once again to visitors from across the supply chain and around the world.  This year, attendees will be greeted by a first; a joint Dole-Total Produce stand, bringing together representatives from across both company's international operations.
Located in Hall 5.2 on Stand A-07, this joint platform will provide a timely opportunity to showcase the collective reach, resources, core competencies and capacities of Total Produce and Dole combined, reflecting the ever closer bonds being forged between both companies, at production and in the marketplace, since Total Produce's investment in Dole in 2018.
Customers and guests on the stand can anticipate a warm welcome. Expect hospitality infused with the sense of fun synonymous with the Dole brand and promoted so passionately across Dole's Social Media channels.  Total Produce and Dole both enthusiastically promote the fun, flavour and health affirming attributes of produce and its relevance to contemporary consumers so expect also to sample the fruits of our labour:  Fruity "energy balls", sweet "chocolate grapes", crisp and crunchy "pineapple fries" and novel "banana curry sausages" await.
Fruit Logistica, of course always provides a valuable forum for bringing together in an informal setting, not only our partners in production and customers from across the globe but also colleagues from throughout our international group.  This year,  Dole and Total Produce representatives will be joined by, amongst others, colleagues from Hortim International (Czech Republic & Slovakia), Grupo Eurobanan (Spain) and Oppy (North America).  We are pleased to confirm also that, in keeping with both companies shared commitment to sustainable practices, our joint stand will be Carbon Neutral at Fruit Logistica 2020 with both Total Produce and Dole committing to offsetting carbon emissions associated with exhibiting in, and travelling to, the Messe Berlin.
At an exciting time for Total Produce and Dole, our collaboration in Berlin is an exciting development. We very much look forward to welcoming customers and colleagues, growers and friends to our stand and to sharing our vision for driving the fresh produce category forward.  We hope you can join us.
About Dole Europe: Dole Europe is the European division of Dole Food, one of the world's biggest providers of fresh fruit and vegetables. Dole Europe imports a large range of fresh fruit and vegetables from its own agricultural businesses in the Dole Food Company and from independent producers around the world. Dole Europe also provides retailers with innovative solutions for services and products. The company's network stretches from Scandinavia to South Africa, from Italy to Russia and the Middle East. Further information is available at www.dole.eu.
About Total Produce: Total Produce is today one of the world's largest and most accomplished fresh produce producers and providers. Local at heart, Global by nature, Total Produce operates out of 39 countries while serving many more. Our industry leading vertically integrated supply chain extends across the globe incorporating over 260 facilities including farms, vessels, manufacturing facilities, cold storage warehousing and packhouses. Growing, sourcing, importing, packaging, marketing and distributing over 300 lines of fresh produce, Total Produce's range extends from the more familiar to the truly exotic.  www.totalproduce.com